Ultra-Staff EDGE Web Portals
Engage your employees and clients with custom branded portals.
Ultra-Staff EDGE Web Portals provide an access point to information that is mined and distributed to and from the Ultra-Staff EDGE database.  All Ultra-Staff EDGE portals are highly customizable and branded for each staffing firm so that no two sites are alike.  These self-service tools provide a global doorway to do business with your company.  All portals are cloud-hosted by ABD.
Request A Demo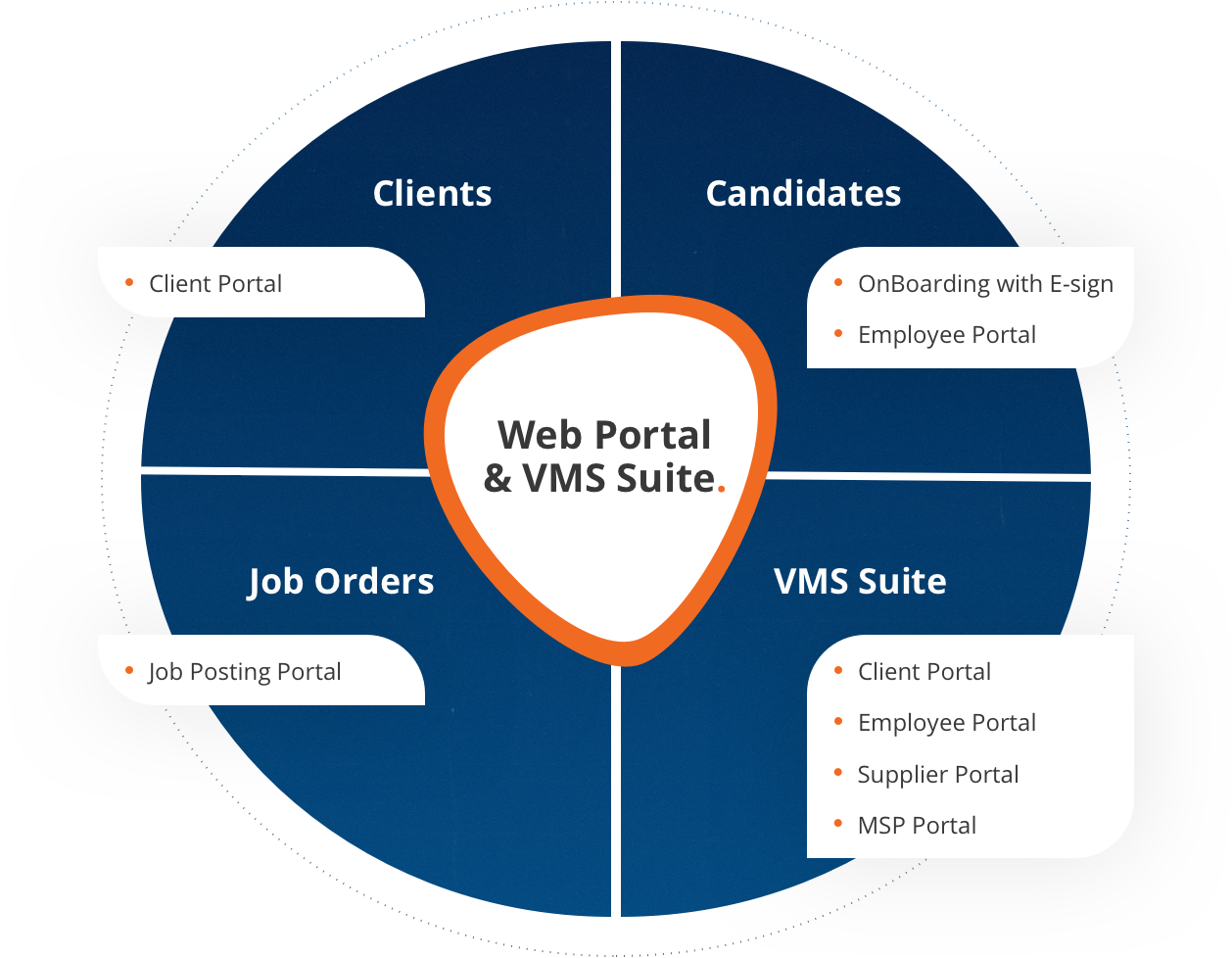 The client portals make communication easy and accelerated
Clients can effortlessly approve time from the portal or directly from an email
Enter contract / temp and direct hire orders
View recommended candidate resumes and rank candidates **includes video resumes and credentials
Assign employees to their jobs
View open job orders and fill progress
List working employees
View and export reports to Excel®
Print and view open invoices
Other convenient self-service tools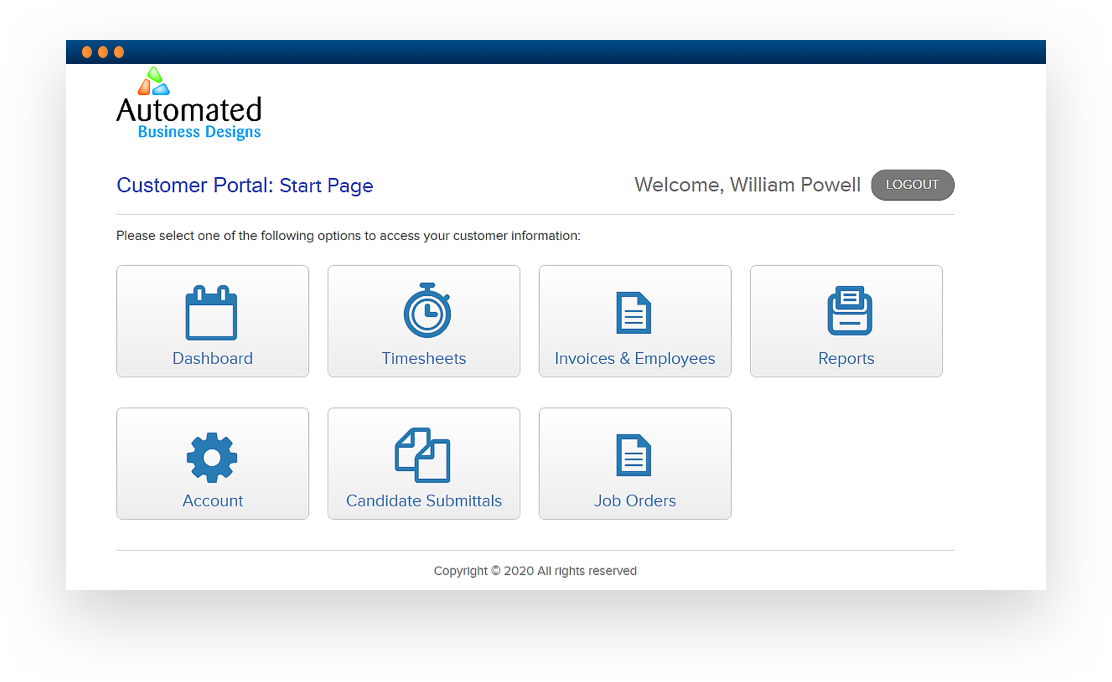 Improve your employee experience and help ensure the "best" talent in the industry wants to work with your firm.
Convenient time entry
Employees can apply for open jobs
Enter availability for scheduling
View active assignments
View checks, W2's or 1099's and 1095's
Upload documentation
Other convenient self-service tools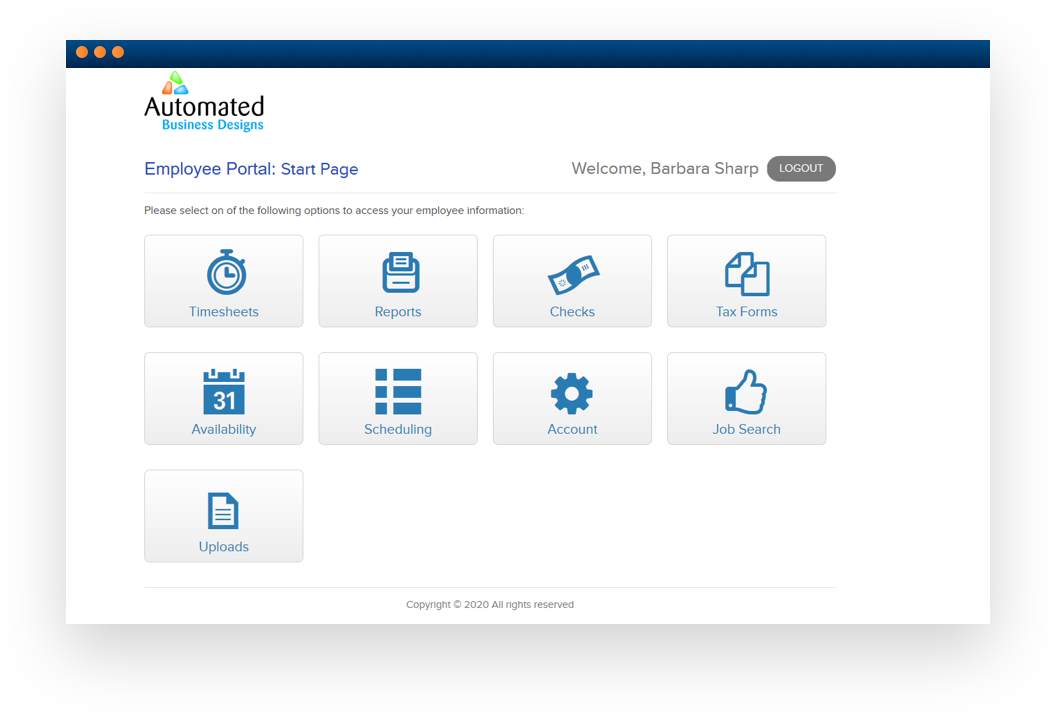 Also Enjoy These Robust Self-Service Portals
OnBoarding with E-sign Forms
Candidates can apply with ease and sign necessary paperwork on-line. The OnBoarding Portal is completely customizable and custom branded to your company. With configurable field captions, wizard style interface, unlimited forms, documentation upload and unlimited e-sign forms, your web applicant self-entry is complete. Set up a kiosk at your office as another option. You can offer a quick apply email entry and resume upload or an intense application process with several customized e-forms. Video's and quizzes; documentation and profile picture upload are available and so much more! Forms automatically optimize for mobile when a mobile device is detected.
VMS Portal Suite
Tired of managing your MSP Clients and duplicating effort between the outsourced VMS Portal and your ATS? Use the MSP Portal Suite to manage all of your client orders and VMS Suppliers. The suite comes with 4 portals: MSP Portal; Client Portal; Supplier Portal and Employee Portal. In conjunction, you can manage all suppliers and candidate submissions for client orders. Suppliers can log into their portal and upload candidates in bulk or single record. Your suppliers will be able to use a convenient ATS to manage their candidates and submit them to orders. Clients can choose and/or rank candidates. Everything flows through to Ultra-Staff EDGE so that you can bill clients and pay suppliers.
Job Posting Portal
Post job orders directly to your website or to one of the supported career sites. Use the easy to use, robust editor to style your postings. When candidates apply, they are immediately associated with the job order they applied to. Post individual or schedule the job post and take down. Post video job descriptions for more impact.
Frequently Asked Questions
We've put together the most common questions we get asked about Ultra-Staff EDGE. If you have a question that you can't find here, please contact us directly for more information.
Contact Us
Great question! Ultra-Staff EDGE offers a full contact management solution including pipelines, quota tracking, intense search tools and an integration with popular marketing automation products for a full-service model.
Yes! Produces standard or customized financials by EIN.
Automated Business Designs is completely focused on the staffing industry. ABD is the most experienced partner, having serviced the industry since 1982.
ABD customers are hosted at a highly secure data center with strong protocols and cloud management for security and high uptime.
ABD services a wide range of staffing from day labor to high level direct hire placement. Ultra-Staff EDGE's customizable interface contains tools for every level of staffing.
See How Ultra-Staff EDGE Web Portals Will Bring You Self-Service Tools