Scheduling Module
Shift Scheduling is a staffing model that encompasses many unique aspects.  This requires tools that can take command and address the various exclusive circumstances that are presented. Handle multi-shifts, shift differentials, credentialing, work schedules and more with the Ultra-Staff EDGE Scheduling Module.
Request A Demo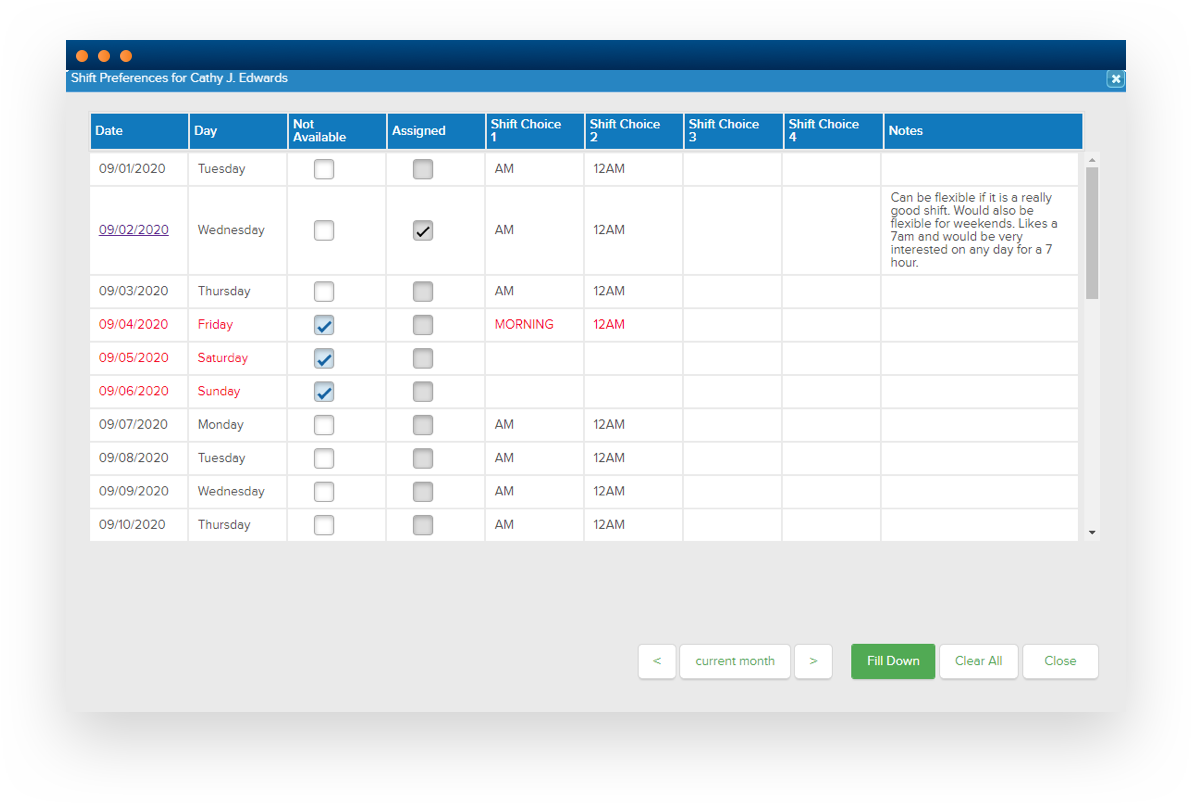 Manage shifts from the easy-to-use Ultra-Staff EDGE Scheduling Module Calendar View.
Manage shifts individually or in bulk
Seamlessly have shift differentials taken care of
Monitor credentials with automatic alert emails to your employee and your staff
Avoid staffing mistakes with Won't Go and Don't Go Alerts
Powerful Search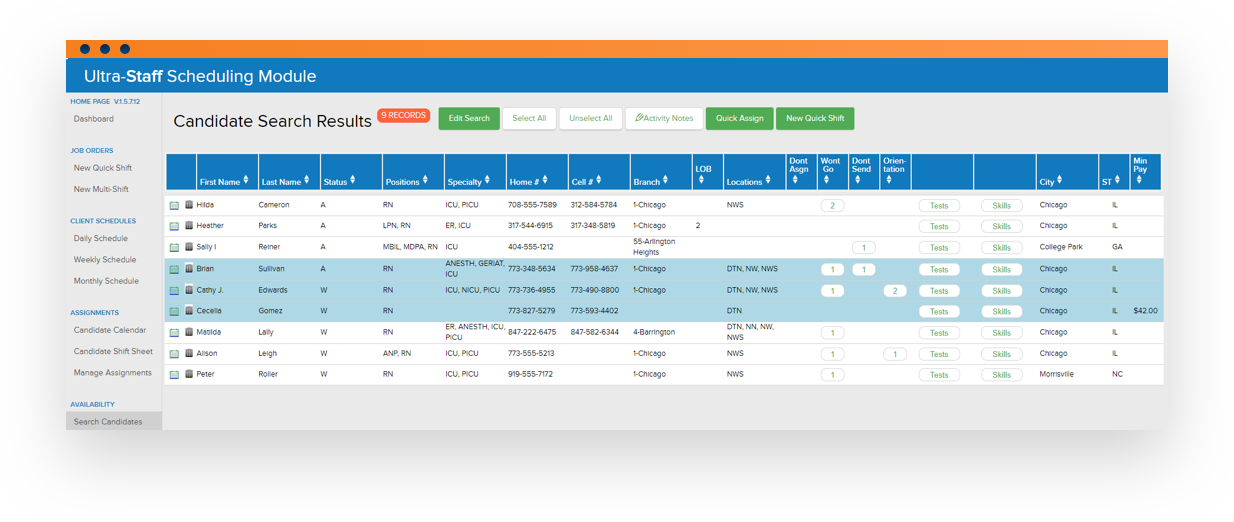 Employee Schedules and CRM
Work Schedules easily shared with employees via email or on the Web Portal
Daily shift needs satisfied with the flexible search and staffing model
Manage pipelines, marketing campaigns and follow-ups with the built-in CRM
Enjoy the strong benefits of an integrated back office
Build and maintain relationships with web and mobile portals, text messaging and email campaigns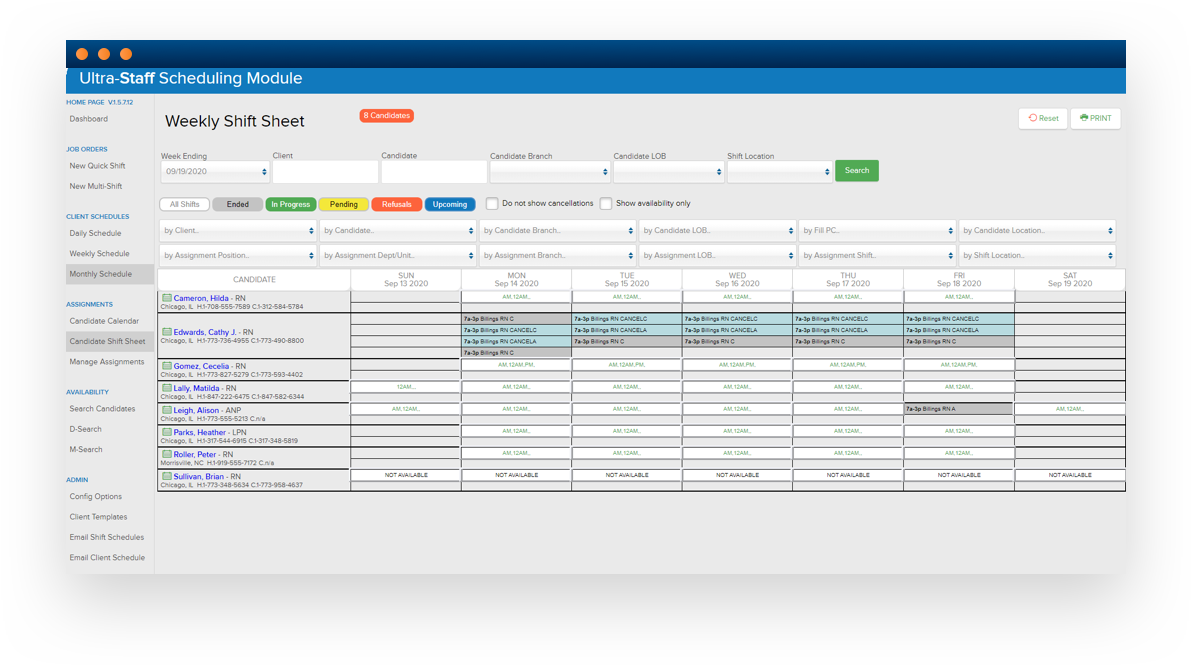 Shift Scheduling Made Easy
Multi-Shift
Whether you have a request for one or 50 needs, you have the ability to create and manage all shifts individually or in bulk. You also have the ability to update changes in the schedule as needs arise.
Shift Differentials
Determine pay and bill rate by customizable rate tables. Pricing has never been so easy or as robust and deep. Impact rates by class, client, shift, day, experience or employee. Add fees for travel, per diem, on-call / call back and more.
Credentialing
Tracking and verifying credentials is extremely important for compliance. With Ultra-Staff EDGE track any number of licenses, certifications, and other necessary compliance elements. Include expiration dates, documentation, license numbers and more. Issue automatic email reminders coupled with powerful mass texting. Automatically hard stop employees that lack appropriate credentials or have expired credentials.
Availability / Work Schedules
Input employee availability or have them conveniently log into the Web Portal or Mobile Portal to indicate when they can work. Employees can view their work schedules or have them emailed to them.
Avoid Scheduling Mistakes
With the Won't Go and Don't Go tools, you will never staff an employee that should not have been staffed at a specific facility. Employees are automatically excluded from searches for specified facilities and warnings display in order to avoid staffing issues.
Shift Searches
Let the Ultra-Staff EDGE powerful scheduling search be your guide to find qualified and available employees to decrease your time to fill. Availability, schedules, credentials and shift preferences are all taken into consideration automatically.
Customer Relationship Management (CRM)
Manage your sales pipelines and communication with employees and customers. Use the built-in Daily Planner for follow-ups or seamlessly place appointments on your Microsoft Outlook® calendar. Email or text message to build and maintain those important relationships.
Web and Mobile Portals
Incorporate the optional portals as strong companions to your relationship building mission. These self-service tools offer convenience to customers and employees. Processes are facilitated. The Employee Portal, Client Portal, Job Portal (all mobile optimized) are available. In addition, use the OnBoarding Portal with e-forms to harvest paperwork and streamline your application process.
Frequently Asked Questions
We've put together the most common questions we get asked about Ultra-Staff EDGE. If you have a question that you can't find here, please contact us directly for more information.
Contact Us
Great question! Ultra-Staff EDGE offers a full contact management solution including pipelines, quota tracking, intense search tools and an integration with popular marketing automation products for a full-service model.
Yes! Produces standard or customized financials by EIN.
Automated Business Designs is completely focused on the staffing industry. ABD is the most experienced partner, having serviced the industry since 1982.
ABD customers are hosted at a highly secure data center with strong protocols and cloud management for security and high uptime.
ABD services a wide range of staffing from day labor to high level direct hire placement. Ultra-Staff EDGE's customizable interface contains tools for every level of staffing.
Shift Scheduling Made Easy with the Scheduling Module