Ultra-Staff EDGE Middle & Back Office
Designed for staffing!
Ultra-Staff EDGE Back Office was designed to handle the unique requirements of contract / temp and direct hire staffing.  Standard accounting solutions do not address many of the unique situations that are common in staffing.  With Ultra-Staff EDGE Back Office, you get a seamless workflow that enables front office, web portals and back office to interact.  Accounts Payable and full General Ledger with financials is included.
Request a Demo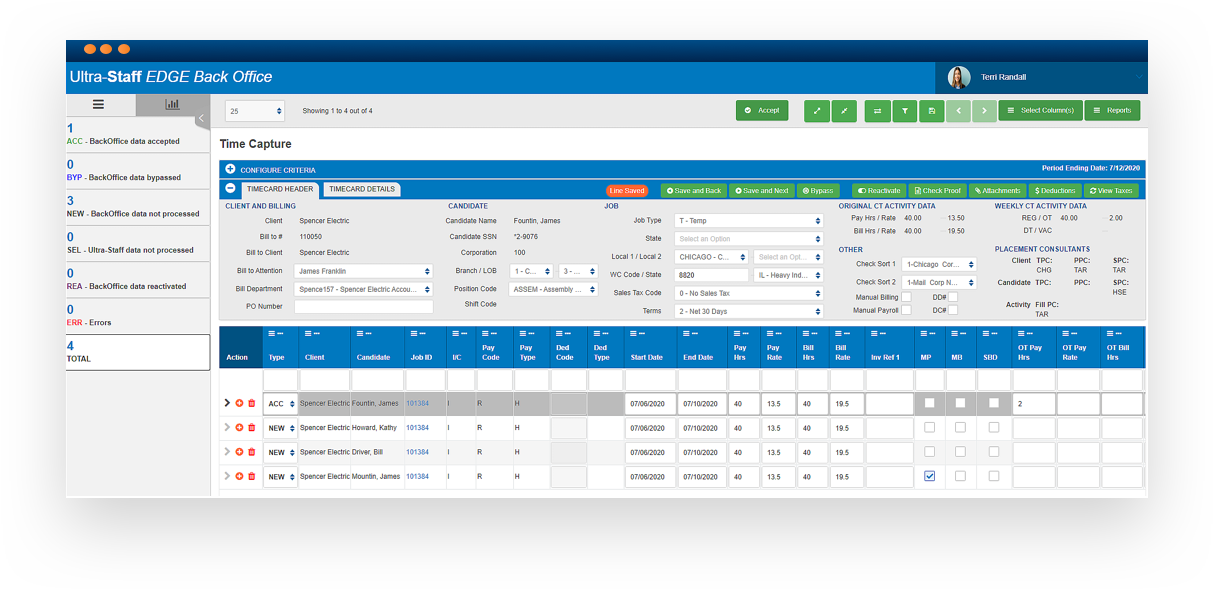 Everything you need to run your entire business.
Fully supports multiple EIN, Branch and Line-of-business requirements
Billing with almost 100 custom invoice formats
Accounts Receivable with cash flow reporting and collections
Payroll with full government reporting and e-filing
Sales Analysis for Gross Margin, Commission, Forecasting and Data Modeling
Accounts Payable and General Ledger with customizable financials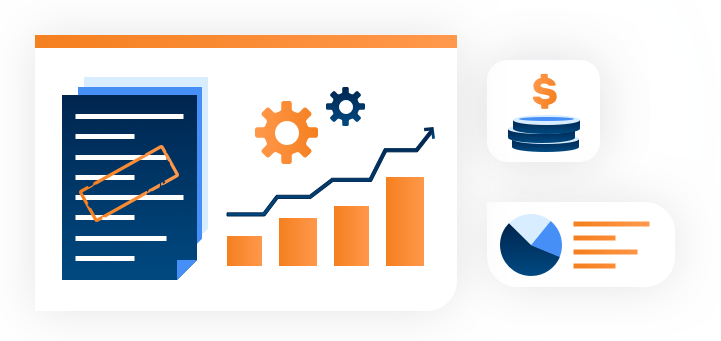 Exceptional Workflow
Employee Payroll and Client Billing Parameters are housed in Ultra-Staff EDGE front office
Time Capture for contract / temp receives time from multiple sources (timeclocks, web and mobile portals, manual timeclocks, VMS timeclocks and spreadsheets)
Direct Hire Billing receives information from front office placement activity

The Back Office Suite
Time Capture
Information flows from Ultra-Staff EDGE front office to Time Capture. Time is married to assignments from a variety of resources. Pay and Deduction Codes are customized by EIN/Branch/LOB. Payroll and Billing information is captured in one easy step. Mileage, Piece Rate and custom calculations for specialty items such as garnishments is supported. Data fields are highly customizable.
Specialized Invoicing
Multiple invoice styles are available to choose from for clients. Invoices can be printed or emailed and automatically post to the Web Portal. Invoices are also available for view and email from Ultra-Staff EDGE front office. A Sales Journal and full General Ledger posting occurs within the invoice cycle.
Payroll for Staffing and In-House Staff
Checks, Direct Deposit or Cash Card options are available for payroll. Weekly, quarterly and year-end wage reporting is built-in, including electronic filing. Worker's Comp Reporting; Vacation / PTO; EEOC and Certified Payroll Reporting is part of the Payroll Suite. General Ledger journals and posting occurs within the payroll cycle.
Accounts Receivable
Accounts Receivable is automatically updated as part of the Invoice Cycle. Aging Reports; Cash Flow Reporting; Open & Historical Inquiry; Statements of Account and Credit Limit Reporting is all included. General Ledger journals and posting occurs within each Cash Application and Adjustment A/R Cycle.
Sales Analysis
Sales Analysis is critical for business planning and forecasting. Ultra-Staff EDGE Sales Analysis is available by EIN; Branch and Line-of-Business. It is also functional by a variety of other search criteria such as recruiter, sales rep, client and employee. Gross margin reporting; client billing; commission reporting; sales tax reporting; purchase order and client revenue forecasting are just a few of the sales analysis options.
Accounts Payable
Accounts Payable offers the ability to process in-house invoice payments as well as payment to 1099 employees and VMS Suppliers. Garnishment payments can also be processed directly from Time Capture. A/P aging reporting, recurring payables, and open and historical inquiry are included. Direct deposit is available. General Ledger journals and posting occurs from invoice entry and payment processing. 1099's can be processed.
General Ledger
The Ultra-Staff EDGE General Ledger solution manages information by EIN. Supports general journal entry; automatic reversing entries; budgeting; bank reconciliation and custom balance sheets and profit & loss statements. Drill-down from a journal all the way to the check and invoice level for specific details. Trial balance and customizable fiscal periods.
Positive Pay
Help prevent costly check fraud by utilizing Positive Pay. Easy to use and customized for your bank.
Automatic Check Reconciliation
Save valuable time with automatic check reconciliation which accepts a customized file from your bank. Reduce costly errors caused by manual reconciliation.
Timeclock Interface Module
Customize any timeclock or VMS file for import into Ultra-Staff EDGE Time Capture. Ease up the data entry process by receiving data electronically in one easy step.
Express Time Capture
Import time provided on a system exported spreadsheet and automatically pull the information into Time Capture for payroll and billing. Great for vendor on premise situations that require this sort of flexibility.
Direct Hire Billing
Direct Hire Billing seamlessly integrates with direct hire placements in front office. In addition, bill costs for items such as drug screening, background tests, etc., or set them up as a 100% cost item to appear on your Gross Margin Reporting. Completely flows through to Accounts Receivable, Sales Analysis and General Ledger. Print or email invoices.
Ultra-Staff EDGE Payroll Service Interface
If you choose not to process payroll in-house, you may export information to an outsourced payroll service or PEO. This module automatically exports time information as well as new employees to your payroll vendor. Customize Pay and Deduction Codes to map to your provider's codes.
Sunset Cove Back Office Service
Get the best of both worlds and have all or part of your back office tasks completed by Sunset Cove, ABD's exclusive back office service partner. Sunset Cove will log into your database on the cloud and run your entire payroll, billing and reporting. Ala carte services are also available for collections, cash entry, government reporting or consulting. Mix and match any service. Sunset Cove will even enter time! Keep employees and clients engaged by having them use your white-labeled portals instead of logging into an outsourced service portal. Keep all of your data housed within your database and avoid exporting data to disparate solutions.
Affordable Care Act (ACA)
Ultra-Staff EDGE Back Office comes complete with all of the required ACA Reports when you run payroll through Ultra-Staff EDGE Back Office. All year-end reporting is included and additionally 1095's automatically post to the Ultra-Staff EDGE Web Portal.
Frequently Asked Questions
We've put together the most common questions we get asked about Ultra-Staff EDGE. If you have a question that you can't find here, please contact us directly for more information.
Contact Us
Great question! Ultra-Staff EDGE offers a full contact management solution including pipelines, quota tracking, intense search tools and an integration with popular marketing automation products for a full-service model.
Yes! Produces standard or customized financials by EIN.
Automated Business Designs is completely focused on the staffing industry. ABD is the most experienced partner, having serviced the industry since 1982.
ABD customers are hosted at a highly secure data center with strong protocols and cloud management for security and high uptime.
ABD services a wide range of staffing from day labor to high level direct hire placement. Ultra-Staff EDGE's customizable interface contains tools for every level of staffing.
See How Ultra-Staff Back Office Can Help You Manage Your Business